According to Richard Susskind in Tomorrow's lawyer, "more for less challenge" means "how clients, working with external law firms, deliver more legal services at less costs". Clients are corporate law department or in-house department run by in-house lawyers. Like other corporations around the globe, most corporations in Vietnam have been trying to balance rising law firm fees, restrictions on headcount, and an increase in internal legal work.
Current outlook
1. Management attitude
In-house counsel can contribute to achieving corporate objectives in the eyes of the management. In the past, the law department acted simply as a conduit between management and the outside law firm. Now this trend is long gone. In-house counsels have done a lot of legal work. In-house counsels are expected to be a full member of the group, providing a quality of service that is practical, prompt, and cost-efficient.
In achieving these goals, in-house department should focus on:[1]
a) developing and maintain management's confidence in its advice;
b) maintaining a high degree of integration with management and the development of seasoned full-service legal staffs;
c) applying modern management techniques, such as planning, budgeting, quality control, productivity efforts, and computer technology;
d) auditing the company's legal compliance to mitigate exposure for violation of the laws and regulations applicable to its business;
e) being willing to make hard and fast decisions. In-house lawyer are expected to have a "can-do" attitude, to provide prompt, practical advice that mitigates legal risks.
2. Consistently inventing new options to "More for less challenge"
In avoiding the escalation of legal fees, general counsels have tended to keep more work inside, while seeking better fee arrangements from their outside counsels.
Law firm fees have been carefully budgeted by focusing on law firms' expertise and partnership arrangements. A fast-moving consumer goods (FCMG) multinational corporation has employed various types of outside counsel, whether local or foreign to handle their legal needs. The world's leading advertising company has preferred to outsource legal work in the form of secondment. This would help to reduce legal fees and the company in turn can rely on the law firm's support through secondment model.
3. More corporations, especially multinational corporations are starting to recruit qualified lawyers as an expert in specific areas of law. They can recruit directly from law schools and are targeting excellent law students as private practitioners. In addition, they are looking to bring in partners from major law firms to be general counsels and specialty, senior in-house attorneys. Recently, a French retailing company operating more than twenty stores throughout the country replaced a French general council with a Vietnamese one who was a senior associate in a global law firm. This can help reduce salary and take advantage of local knowledge/experiences of in-house counsel.
4. Experienced lawyers in law firm are moving to corporate law department. Switching to corporate practice often has the advantage of greater resources for training and the ability to provide career challenges that combine sophisticated law practice, business involvement, greater levels of responsibility, travel, and the opportunity to deal directly with the corporate client. Working for the law department represents an opportunity to be exposed to and participate in business strategies and the decision-making process.
5. The increasing complexity of the corporate landscape requires that in-house experts specialize in specific area of law as tax, employee benefits, securities, labor, intellectual property, environmental, antitrust, energy, financial law, and ethics. Now, the corporate law departments are increasingly handling the more complex, sophisticated projects requiring intimate knowledge of the company, and outside counsel being used for the more routine tasks. For instance, in a small-scaled investment fund operating in Vietnam, its law department is responsible for handling legal work surrounding the fund's investment decision, including investigating a target company, composing deal structure, cleaning up the company and do compliance work.
Reduction of legal expenses of outside council
Engaging in specialized law firm is still needed to maintain quality of legal work. In the meantime, companies have been employing different methods to reduce outside counsel expenses. Here are some common methods which may be used variably depending on size of budgets for legal work:[2]
a) bringing a greater amount of the work in-house;
b) looking out for alternative fee arrangements with the outside counsel and using competitive bidding to retain legal services;
c) decreasing the number of law firms handling their legal work; and
d) increasing selective outsourcing arrangements.
Several major corporations equipped with considerable in-house legal resources have retained outside counsel to manage all legal demands in specific areas of law.
Challenges ahead
To tackle future challenges of in-house legal departments, general counsel and in-house lawyers should look at the following strategies to prepare for the future and cope with more or less challenge [3]:
a) Focus mainly on outside lawyer to reduce legal costs;
b) Reshape in-house department instead of running large in-house department;
c) Review internal and external capabilities and try to streamline both;
d) Undertake a comprehensive legal need analysis for the business between traditional lawyers and new legal service providers; and
e) Building competent in-house functions by tentatively appoint a new position chief operating officer and improving performance of coordinating lawyers.
[1] Carole Basri and Irving Kagan, Corporate Legal Department
[2] Carole Basri and Irving Kagan, Corporate Legal Department
[3] Richard Susskind, Tomorrow's Lawyers, 2nd edition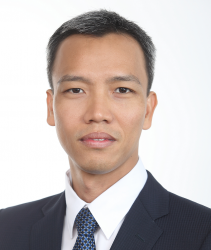 Latest posts by Bui Tien Long (Rudy)
(see all)