Unlike traditional ways of doing business, doing business on the internet revolves around computer, internet and electronic commerce, which is no boundary or territory between business people. But it raises a lot of legal concerns over how to be protected in the borderless world.
New technology products demand that lawyers consider issues that may have been formerly limited to computer based internet technology, advertising, entertainment, music, publishing, finance, securities, healthcare, insurance, and communication in new combinations which may have untested legal implications. It is well-understood that as companies position themselves in any emerging technology or content market, complex issues must be resolved with unprecedented speed. In the context of Vietnam, the laws of Vietnam governing these areas of law have been keeping a glacial pace with unceasingly rapid changes of these emerging technologies.
Computer
The computer has revolutionized many aspects of life and will continue to do so for many years to come. Without a doubt, it has changed the way in which modern businesses are organized, goods are manufactured, and services are delivered. There is no denying that the computer has become indispensable to government, educational institutions, the professions, the administration of justice, and to small and large businesses, alike.
Internet
The Internet has revolutionized the computer and communications world like nothing before. The invention of the telegraph, telephone, radio, and computer set the stage for this unprecedented integration of capabilities. The Internet is at once a world-wide broadcasting capability, a mechanism for information dissemination, and a medium for collaboration and interaction between individuals and their computers without regard for geographic location.
Electronic Commerce
International commerce is changing because of the Internet. Electronic commerce is at the leading edge of the technological forces shaping the world economy. These forces are related and mutually reinforcing: improvements in information and communication technologies, globalization of markets and investment, and the shift to a knowledge-based economy.
In general, electronic commerce can be defined as doing business electronically or including any kind of transaction that is made using digital technology. It is a generic name given to business transactions which are entered into through electronic rather than paper-based means. The term "electronic commerce" can also be given a more limited interpretation to those trade and commercial transactions involving computer to computer communications whether utilizing an open or closed network. It would also involve the computer based transfer of products (such as consumer goods and services, information services, financial and legal services) and the dissemination of traditional activities such as health care and education over networks, as well as activities such as virtual shopping malls.
Electronic Commerce can be subdivided into four distinct categories: business to business (often referred to as B2B), business to consumer (often referred to B2C) business-administration; and consumer-administration.
Legal issues affecting doing business on the internet
In general, the use of computers, internet and electronic commerce has raised a lot of legal questions. Unique technologies or unusual applications are often involved in transactions or litigations for which there may not be any precedent. Very often, the challenge for those practicing in the field of computer, internet and electronic commerce law is to use traditional legal concepts to fashion legal solutions that are as creative as the technology which they seek to define.
Doing business on the internet raises a number of legal issues for businesses and consumers, which includes:
1. the formation of electronic contracts such as whether electronic documents and signatures comply with applicable formalities, how electronic contracts can be formed, the enforceability of contracts entered into by electronic agents, the time and place of contract formation;
2. security issues such as the authentication of electronic communications, the commercial confidentiality of business transactions, and the security or integrity of electronic communications, particularly against interception or by alteration of unauthorized third parties;
3. choice of law and venue for legal proceeding;
4. admissibility of electronic evidence and the application of traditional evidentiary rules such as authenticity, the best evidence rule and hearsay to electronic evidence;
5. record retention and management issues;
6. consumer protection;
7. privacy of data including developing and complying with model codes and emerging global legislation related to privacy;a
8. understanding the jurisdictional impacts of Internet based electronic commerce including which countries' laws apply and, when courts will assume personal jurisdiction over persons carrying on business outside the jurisdiction;
9. clearing intellectual property rights for electronic distribution of intangible products or to offer services which use or involve the communication to the public of intellectual property;
10. protecting intellectual property rights in an electronic environment where intellectual property can be easily pirated;
11. criminal laws as they may apply to electronic commerce;
12. obtaining patent protection for Internet based business methods and processes; and
13. problems related to domain names including the bad faith registration of domain names by cybersquatters.
….and so on.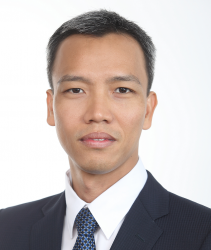 Latest posts by Bui Tien Long (Rudy)
(see all)